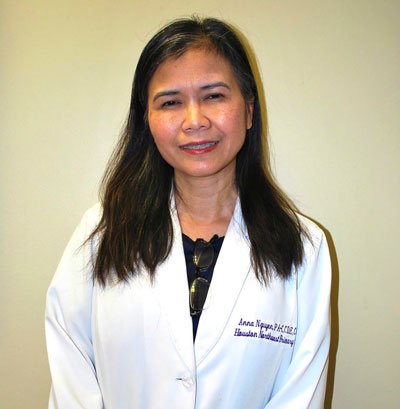 About Annalysa Nguyen
Annalysa (Anna) Nguyen, Physician Assistant in Internal/Family Medicine for 19 years. She graduated from Philadelphia College of Osteopathic Medicine in 2003 with a Master Degree in Physician Assistant Study. She is board certified by the NCCPA. To better serve her patients, she's enhanced her skills and knowledge in medicine. She got certified in diabetes education (CDE), board certified in Advance Diabetes Management (BC-ADM) and Certified insulin pump trainer (CPT). She is also interested in BIO-Identical Hormone and Functional Medicine.

Recently, she became a National Registry of certified Medical Examiner, who has completed the required training and testing concerning the Federal physical qualifications and standards for truck and bus drivers and possesses the necessary knowledge and professional credentials to perform physical qualification examination for commercial motor vehicle drivers in accordance with the federal Motor Carriers Safety Regulations.

God has instilled in Anna a passion for medicine since she was a kindergartener in Vietnam. She always chose to play "doctor" during her play-time. This strong desire of of healing became stronger when she witnessed her father severely injured by a gas tank explosion and witnessed poverty affect her local community and abroad communities on mission trips to Cambodia and Vietnam. She loves God and loves the people. Her patients often tell her that she has a "healing touch" and she just points up to heaven and smiles.

She approaches her patients with great compassion and treats them holistically and as a whole being not as a number. Therefore, she listens to her patients carefully and assesses them in light of their emotional, physical, socioeconomic and spiritual conditions as in functional medicine. She does not believe that medications are the only treatment but an integration of nutritional therapy, pharmacotherapy, hormone and vitamin supplement, sleep and stress management.

Annalysa Nguyen has a great passion for patients with diabetes and weight problems. She witnessed her father, and her patients struggle to improve their diabetes but did not have an effective and specific plan. She took the initiative to learn about diabetes self-management education and weight management. She has been a Certified Diabetes Educator (CDE) since 2008 and Certified in Obesity Management since 2019. She is also certified in insulin pump management which uses technology to improve blood sugar in insulin dependent patients. She spends time with her patients to empower them taking charge of their health. She brings their blood sugar to goal and then maintains them with minimal medications but depend more on nutritional therapy and lifestyle management. She makes the treatment plan simple and realistic which is easy to follow. Her patients lose weight, improve their chronic illnesses, and yet take less medications than the initial visit. They often testify that not only their health improves but their quality of life and relationship also improve. She serves as their personal coach and cheer leader, and she loves it! She hopes that you would join her team for better health too!!!

Beside taking care of patients at work, she enjoys raising her three children with her husband. They enjoy nature and outdoor activities.