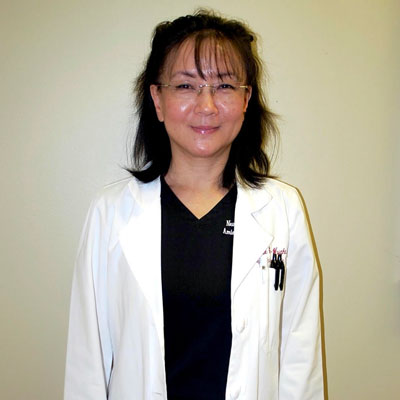 About Dr. Sun-Wright
Amie Sun-Wright, MD, PhD, CCD, is a board-certified internist who has been practicing medicine since 2008 in North Houston. She is proud to serve patients at New Wave Physicians Group in Spring, Texas.

Specializing in comprehensive patient care, she applies science and her clinical expertise to diagnose, treat, and provide compassionate care to all of her patients. She is committed to delivering high-value care and the best health outcomes and patient experiences.

Dr. Sun-Wright studied at the University of Texas in San Antonio, where she earned her Master of Science and PhD in biochemistry. While serving as an assistant professor at the University of Texas Health Science Center at San Antonio, she was involved in the development of using bacteriophage as a "natural killer" to bacteria in the human body. The research experience has trained her to always approach an issue with systematic assessment and critical thinking.

During her research years, Dr. Sun-Wright realized she enjoyed helping people so she later obtained her medical degree from Texas Tech University Health Sciences Center School of Medicine. She completed her residency in Dallas before moving to the Houston area so she could be closer to her loving and extended family.

Her awards include "Top Doctors" in Houston for multiple years, and she was also named in the Who's Who in Primary Care in the US in 2018. She served as a representative to Texas Medical Association early in her career and recently as a medical director for a national health care organization.

Prior to her endeavors, Dr. Sun-Wright was an assistant instructor in the Department of Cellular and Structural Biology at the University of Texas Health Science Center in San Antonio, Texas. In addition to her role as an Internist, she is a Certified Clinical Densitometrist (CCD). A CCD is accredited by the National Commission for Certifying Agencies, a professional designation awarded to clinicians who meet specified knowledge.

Dr. Sun-Wright is a triathlon enthusiast and is fluent in English, Chinese, and medically conservant in Spanish.